Oase Water Trio
Oase Water Trio
Playful but also harmonious, this visual orchestra characterises the new generation of water features. Extremely flexible implementation, Water Trio and Water Quintetcan be optimally integrated in every custom garden concept. Terraces become living spaces where you can sitback and watch the orchestra. Thanks to the Plug 'n' Spray conceptwater effects can be quickly installed, the permanently set programs for variation of speed and fountain height can be easily selected via remote control.
Oase Water Trio characteristics:
Unique dynamic water effects with 3 or 5 illuminated nozzles.
High-quality LED technology as brilliant white luminous LED rings
Different permanently set programs can be selected via remote control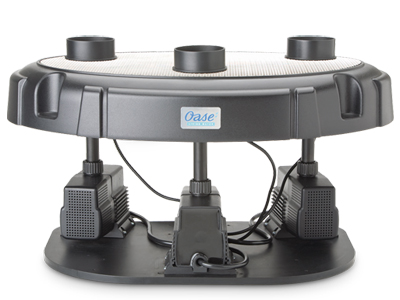 Included in the Oase water Trio programs:
Variations of fountain height, speed and intensity of the LED illuminated rings
Safe, energy-efficient12V technology
Unique Plug 'n' Spray concept for fast installation
Robust floor plate protects against damage
Included in the Oase water Trio set:
Water effect
External control unit
Cable
Transformer and remote control
Ideal implementation possibility:
Flexible implementation, e.g. on the terrace or in a bed of gravel combined with a water reservoir.
See More Water Entertainment
Oase Water Starlet
Creativity and individuality take on a whole new meaning with this water effect. The Water Starlet can be integrated in any environment– water pool, swim pond or bed of gravel. There are no... (click on image for more details)
Oase Water Quintet
Playful but also harmonious, the Oase Water Quintet visual orchestra characterises the new generation of water features. Extremely flexible implementation, Oase Water Trio and Oase Water... (click on image for more details)