UV Ozone System (High Pressure)
Ozone has been used for decades for disinfecting drinking water and for purifying air. This substance has very strong oxidation and sterilisation properties on all organic substances and takes away unpleasant odours. This makes it one of the most effective means of sterilisation for water treatment.
UV -C radiation and Ozone together form the perfect combination for making pond water immaculately clean and rich in oxygen. Ozone and UV-C kill algae, viruses and bacteria.
The use of Ozone is a natural process which is artificially imitated by the UV Ozone System
The Low Pressure UV Ozone System (UV-C Redox Turbo) comes complete with an Air pump, a UV-C / ozone combination lamp and a static mixer. The Air pump carries Air past the combination lamp which produces about 0.6 grams of Ozone. The loaded Air is mixed with water in the static mixer where an oxidation process takes place.
The High Pressure version operates through a venturi injection system with a ball valve to mix the ozone with water. Inlet/outlet is 63mm. Max. flow ± 20m3/h.
Once disinfection has taken place then the water mixed with ozone is carried passed the combination lamp again but this time there is a quartz glass housing as a partition.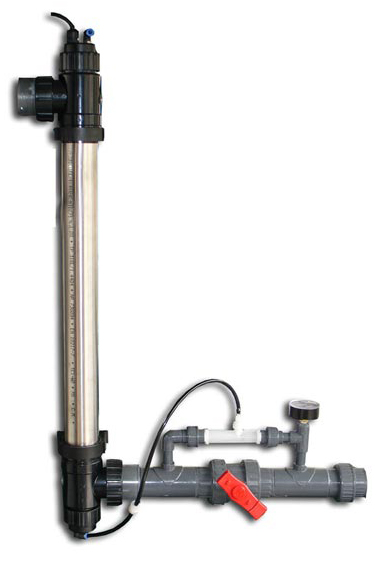 The water is exposed to UV -C radiation (75 watt UV-C output) so that nearly all algae, bacteria and viruses are killed. The UV-C radiation also completely down any risidual ozone. The UV-C Redox Turbo produces ozone which is 100 % safe, there is no ozone left in the water flowing out.
The UV Ozone System increases the capacity of the pond filter and enriches the pond water with oxygen thus creating a healthy environment for your koi.
To Relace Ozone Tube:
Switch off Ozone Device
Switch off Pond Pump
Undo the top Cover nut from the Ozone device
Undo the Ozone lamp from the base
Replace Lamp
Reverse above procedure
The UV Ozone System comes complete with 2 inch unions for the inlet and outlet, also 2 inch - 1.5 inch reducers and 2 inch - 1. 5 inch female thread reducers. Two threaded hosetails are also included for ease of installation.
The UV Ozone System is guaranteed against manufacturing faults for two years from the date of purchase. The lamp is subject to wear and should be replaced in the spring.
UV Ozone System Technical Data
| Uv-C (watts) | Ozone | UV-C Ozone lamp | Size (cm) | Max pump | Max pressure |
| --- | --- | --- | --- | --- | --- |
| 75 watt | 0.6 grams | 36T5HOVH75W4PSEBY1 | 110 x 40 x 15 | 20,000 lph | 1 Bar |
OZ155
UV Ozone System (High Pressure)
OZ158Y
UV Ozone System Replacement Lamp (Yellow End)
OZ158B
UV Ozone System Replacement Lamp (Blue End)
UVRTQ
UV Ozone System Replacement Quartz Sleeve
TNRV
Tephlon Non Return Valves
UVCTT1
UV Ozone System Tephlon Tubing 1 m
See More UV Ozone System
Ozone has been used for decades for disinfecting drinking water and for purifying air. This substance has very strong oxidation and sterilisation properties on all organic substances and takes away unpleasant... (click on image for more details)