Triogen TR2 UV
The Triogen TR2 Uv range is ideal for the treatment of koi ponds and significantly enhances water quality on a very cost effective basis. The Triogen TR2 Uv range has one to four high output, low pressure UV lamps can be incorporated within the same unit, providing a maximum flow capacity of 40m3/h with a powerful UV dose of 30mJ/cm2 at the end of the lamp life.
The Triogen TR2 Uv range is highly effective against "green water" and inactivates single cell algae, allowing the aggregated debris to be removed by mechanical filtration. Additionally, the high 30mJ/cm2 dose provides an invaluable barrier against fish diseases by reducing the level of harmful bacteria, viruses and protozoa in the water, including Vibrio, Aeromonas hydrophilia and Koi herpes virus, by an minimum of 99.9%.
The Triogen TR2 UV treatment operates in an entirely beneficial fashion to the fish pond environment, passing no harmful by products into the water and allowing established mechanical and biological filtration systems to operate in their normal way.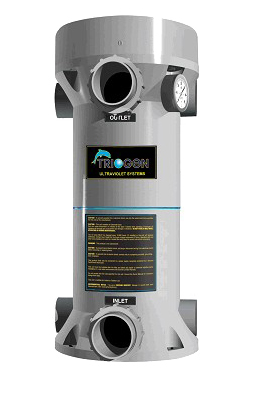 Triogen TR2 Uv range main benefits
Control of "green water"
Disinfection of pathogenic micro-organisms
Low capital and running costs
18 month (12,000 hour) lamp life
Sized to provide the stated UV dose - a factor of the 
internal UV intensity and water contact time - over the 
whole of the lamp life.
100% corrosion resistant UV inhibited polymeric reactor 
vessel
Materials suitable for ponds with increased salinity or 
salt water
All units are CE approved.
Centre ring indicates lamps are operational when switched on
Auto pre set internal flow sensor switch shuts down on no flow 


Triogen TR2 Uv range
The Triogen TR2 Uv range systems have a small footprint and low power consumption. The Triogen TR2 Uv are easily installed, having the unique advantage of selectable inlet and outlet positions to suit the pipework arrangement.

The inlet and outlet unions on the Triogen TR2 Uv range allow easy connection onto existing or new systems and are supplied with both metric and imperial connectors. 
The low pressure UV lamps are powered by electronic ballasts which are weather protected within the reactor top cap. This makes the Triogen TR2 Uv range suitable for outside applications.

All Triogen TR2 Uv units incorporate an external pressure gauge and an internal pressure switch which automatically turns off the UV lamps in a low flow condition. 

The semi-transparent centre ring allows visual confirmation that all lamps are operating correctly.

Another unique feature of the Triogen TR2 Uv is that it is possible to add additional lamps and ballasts to an existing unit should extra treatment capacity be required in the future.
| Type | Code. | Pond Size | Height | Watt | Max GPH | Dia | No. of lamps |
| --- | --- | --- | --- | --- | --- | --- | --- |
| TR2-1 | UV597 | Up to 4000 gallons | 645 mm | 58 | 2420 | 230 mm | 1 |
| TR2-2 | UV598 | Up to 8000 gallons | 645 mm | 116 | 4840 | 230 mm | 2 |
| TR2-3 | UV599 | Up to 12000 gallons | 645 mm | 174 | 7040 | 230 mm | 3 |
| TR2-4 | UV600 | Up to 15000 gallons | 645 mm | 232 | 8800 | 230 mm | 4 |
UV597
Triogen TR2 -1 (4000 gallons)
UV598
Triogen TR2 -2 (8000 gallons)
UV599
Triogen TR2 -3 (12000 gallons)