Flexible Koi Bowls
These Collapsible Flexi bowls are made from a Blue waterproof fabric, which are ideal for temporary viewing, medication baths or to observe koi more closely for wounds, disease or defects and of course photography of fish.
These Flexi bowls are top quality, very strong and will last for years.
These Flexible Collapsible Koi Vats are extremely handy as they are quickly and easily erected when needed, can be easily collapsed again and stored.
The flexibowl also comes with a sewn in fine mesh Zipped cover for the top and its own bag.
These space saving Flexible Bowls can be wiped down and put away in its own bag rather than storing a large bowl.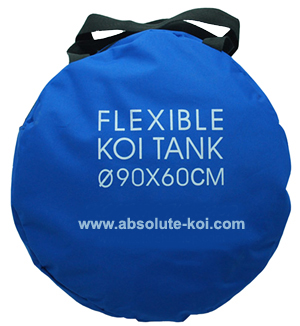 Collapsible Koi Bowl Features
Measurements 90 cm Dia x 60 cm Deep
Measurements 120 cm Dia x 60 cm Deep
Fold Away Bag 10 inch Dia x 2 inch
Open-topped, collapsible bowl
Wipe clean inner
Reinforced Rim
Flexible and easy for storage when not used.
Bowls should always be cleaned out thoroughly after use and remember to do this every time, it is no use grabbing a dirty and possibly contaminated bowl when you urgently need one to treat one of your koi.
One more thing for inspection of your koi these Flexible Koi Bowls are alot safer to use, the risk of damage to the koi trying to jump out is reduced significanly opposed to a Standard koi bowl.
BT594
Flexible Koi Bowls 90 cm Dia
BT616
Flexible Koi Bowls 120 cm Dia
BT6151
Flexible Koi Bowls 180 cm Dia