Aqua Forte koi Feeder - Battery or Mains Power
With the new Aqua Forte koi Feeder now you can feed your koi up to 6 times a day, no matter if you are at home or away your koi will still eat on time and stay healthy and grow faster.
This new Aqua Forte koi Digital Koi Feeder which is fully CE approved has been designed with the aquatic enthusiast in mind and enables a comprehensive range of feeding patterns which can be programmed for continuous feeding through all seasons.
Feeding small amounts at frequent intervals is scientifically known to be the best of techniques for the benefit of both fish & filtration systems, and the computer controller with digital display allows just this. Up to 6 feeds a day over any given period are possible, with full control over the exact amount being fed.
Aqua Forte koi Feeder Unique features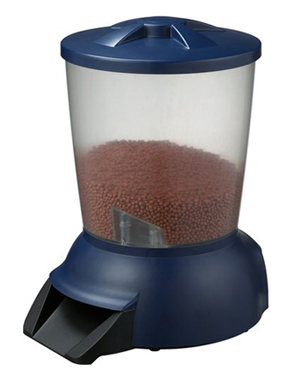 Can feed up to 6 times per day

Food quantity per feeding can be set freely

Each feeding time can be set

Manual feeding button

LED display panel,
Can display clock and feeding parameters
Low battery indicator.
Works on 4 "C/LR14" 1,5 V batteries(not included)
12V transformer (included!)

5L food capacity

Removable locking lid and food tank for easy cleaning - Clip angles included
Battery Power or 12 volt transformer.
12 volt transformer with 5m cable included.
1 year warranty
AF1025
Aqua Forte koi Feeder - Battery or Mains Power
See More Automatic Koi Feeders
New evoFeed Automatic from Evolution AquaJune 2019 sees the launch of a new Automatic Fish Feeder from Evolution Aqua.Named evoFeed Automatic, the feeder represents a first for EA, but is designed to complement... (click on image for more details)
Profi Automatic Feeder has developed an alternative to clockwork feeders! The Profi Automatic Feeder has many applications, including Fry feeding, Feeding of koi and ornamental fish, Hobby ponds - At an... (click on image for more details)
Superfish Koi Pro Auto Fish FeederFeeding your fish with an automatic feeder has many advantages. you get the most out of your fish by always precisely providing the correct amount of feed.This ensures optimal... (click on image for more details)
The Pro Digital Koi Feeder is without doubt a quality automatic feeder and has been in use on our own ponds for the last 10 years, always providing optimum results and added benefits for any Koi pond.The feeder... (click on image for more details)
Cloverleaf past Auto Fish Feeder range were proven to be extremely successful, but have through redesign now become even more versatile and safer via the introduction of the Mk3 Low Voltage models. With the... (click on image for more details)
The FOK AutoFeeder is without doubt the Rolls Royce of automatic feeders and has been in use around the world to our knowledge for the last 25 years, always providing optimum results and added benefits for any... (click on image for more details)
The Fukushin Feeding Master PFX-17L-S Solar Powered Auto Feeder comes with many exciting features including a back-up battery, can dispense up to 12 times a day, holds up to 6 kg of koi food, has a variable... (click on image for more details)
Koi Cafe automatic feeders for ornamental fish offers the ease of regular feeding up to 8 times a day.The innovative design prevents the food getting into contact with moisture. Provided with an inovative sight... (click on image for more details)
XCLEAR Econofeeder Automatic Fish FeederFeeding your fish with an automatic feeder has many advantages. you get the most out of your fish by always precisely providing the correct amount of feed. 
This... (click on image for more details)